Füd Entrepreneurs

is a network of Füd Delivery Agents who offer community services/products outside of delivering. You have come to know and trust these individuals, why not support them further by shopping local and utilizing their unique talents! Check out all the services and products our talented team has to offer you!
Business List
Dog Walking Services by Emily
---
Overview: Emily's company, Who Let The Dogs Out, ensures that you don't come home to any "surprises" after a long day at work. I can do a mid day potty break or a longer visit which includes playtime. Serving the town of Colchester. Potty Break -$15 / Playtime - $18 Overnight pet/house sitting. The benefits for your dog staying in their own home is overwhelmingly less traumatic for you and your pet(s). Your pet stays in the environment he is comfortable in and is not left alone at night. $40 per day Contact Info: Have questions or want to learn more? Call Emiliy at 860 823-7141 or through Facebook at http://www.facebook.com/wholetthedogsoutct
---
Wine Tasting with Stacey
---
Overview: Enjoy a fun night with your friends at one of Stacey's wine tasting events called the Traveling Vineyard! With Traveling Vineyard you can grab all your friends, pop open some great wine and learn a little, too-all without the stuffiness you'd expect from a typical tasting. - The best part, it's FREE! Five exclusive wines at each tastings comes free as well. - Just $14-$25 a bottle so you can afford to fall in love - If you like what you taste, we will ship directly to you! Contact Info: To book an event, or to learn more, contact Stacey at 860-235-5758 or tastinggrapes@outlook.com Check out the video below!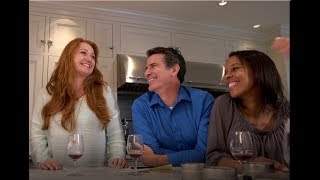 ---
Smarter Appliance and Mattress by Dave
---
Overview: Smarter Appliance and Mattress is located in Colchester, CT. With a beautiful showroom, pricing matching, and incredible and knowledgeable staff, you can feel confident purchasing your next appliance or mattress from Smarter Appliance.
Contact: SmarterAppliance.com - https://www.facebook.com/SmarterAppliance/ -
(860) 531-2363 - 199 Old Hartford Rd Colchester, CT
---
Real Estate with Shelby
---
Overview: Don't sell or buy your home without the proper guidance! When you choose to work with an educated Realtor who specializes in your local market, stays on top of real estate trends and educates you during this very important process, you should choose Shelby! If you are looking to buy or rent, or putting your house up for sale, Shelby will find a place for your mail! Contact Info: Want to connect with Shelby? Give her a call at 606.584.5942 to take the first step.
---
Baby Shower Gifts by Kelly
---
Overview: Kelly's business, Kelly's Crafts CT, can add that "wow" factor to your baby shower. Currently specializing in making diaper cakes for a special friends baby shower. Each cake can be customized to either look like a cake or a baby carriage with customized trimmings based on baby shower theme and gender. Also offering soaps and bath bombs to help you pamper yourself and your loved ones! Contact Info: Have questions about baby shower gifts or soaps / bath bombs? Contact Kelly at kellyscraftsct@gmail.com Samples:
---
Salvage to Swag (Refurbished Furniture) by Sue
---
Overview: With delicate precision, used furniture is made new again with the steady and meticulous hands of the Salvage to Swag team. Our passion is to take outdated pieces and restyle them with paint or other mediums and bring them back to life again. We also sell vintage furniture and home décor and welcome custom orders. One piece or an entire room, call us for an estimate.
Contact: Salvagetoswag01@gmail.com
Facebook: https://www.facebook.com/salvagetoswag/
Samples

:
---
Photography by Ashley
---
Overview: Need high quality and professional photos at an affordable price? Ashley brings a wealth of experience to turn your experiences into easily accessible memories. Ashley focuses on Portrait & Lifestyle photography - family photos, senior sessions, special events like parties & milestones! Contact Info: Have questions or want to learn more? Contact Ashley at ashpine13@gmail.com or (860) 810-0827.
Samples: Check out more samples here: https://www.facebook.com/ashleypinephotography/
---
House Cleaning by Julie
---
Overview: Too busy and need help with house cleaning? Julie is an excellent option for you! With over 5 years experience and 10 regular customers, she can get the job done and get your house looking great! References upon request. Contact Info: Have questions or want to learn more? Contact Julie at 8603347782 or juliemugz99@yahoo.com
---
Custom Printing by Crystal
---
Overview: Crystal's business, Totally Zen Expressions, can deliver custom shirts, decals, cups, chalk couture signs, cake toppers, and more!
Contact: Please call or text Crystal at 860-690-9033, totallyzenexpresssions@gmail.com, or https://www.facebook.com/totallyzenexpressions for more information!
Samples:
---
---